Developmental genetics of the COPD lung
COPD Research and Practice
2015
1:10
Received: 17 June 2015
Accepted: 10 November 2015
Published: 27 November 2015
Abstract
Chronic Obstructive Pulmonary Disease (COPD) is a debilitating disease of the lung which results in irreversible airflow obstruction and is currently the third leading cause of death worldwide. Genetic and environmental factors contributing to COPD are presently under investigation. As lung function measures cluster within families, we now know that lung function is partly inherited. Thus, identifying genes involved in determining lung function at the population level and in determining the risk of development of COPD is important. A thorough understanding of the mechanisms underlying maintenance of lung function and knowledge of how these are altered in lung disease could ultimately lead to targeted therapeutic approaches. This is of potential value in COPD because current treatments are designed to reduce symptoms but do not modify disease progression. Here, we review the genes identified from both meta-analyses of genome-wide association (GWA) studies of lung function in large populations and case control GWA studies in COPD. We hypothesise that mechanisms involved in the early development of the lungs may vary/alter and predispose to COPD later in life. We discuss the genes and pathways involved in normal lung development and ascertain whether they overlap with key genes identified from GWA studies. Epigenetic factors may also play an important role in lung function, development and disease. Furthermore, we discuss our findings on the functional characterisation of HTR4 and genes within the 4q24 locus associated with both lung function and COPD. Lastly, we consider new genetic techniques and models to study candidate genes identified by the approaches discussed.
Keywords
COPDLung developmentLung functionGeneticsHeritabilityEnvironmentFEV1 FEV1/FVCDevelopmental signalling pathways
Introduction
Diseases which cause a decline in lung function remain a huge burden to human society and the economy. One such disease, Chronic Obstructive Pulmonary Disease (COPD) is a heterogeneous and debilitating condition characterised by the development of irreversible airflow obstruction. The development of COPD has a strong environmental basis, with cigarette smoking and exposure to poor air quality being key risk factors. Unlike some common chronic diseases, the incidence of COPD has not declined in recent years, in fact there continues to be increasing prevalence, morbidity and mortality rates for COPD globally. According to the World Health Organisation, 64 million people worldwide have COPD and > 3 million people die each year of the disease [
1
]. Within the UK alone it is estimated that 3 million people have COPD and it accounts for 30,000 deaths each year [
2
]. Critically, COPD is now the third leading cause of death worldwide, Fig.
1
[
3
].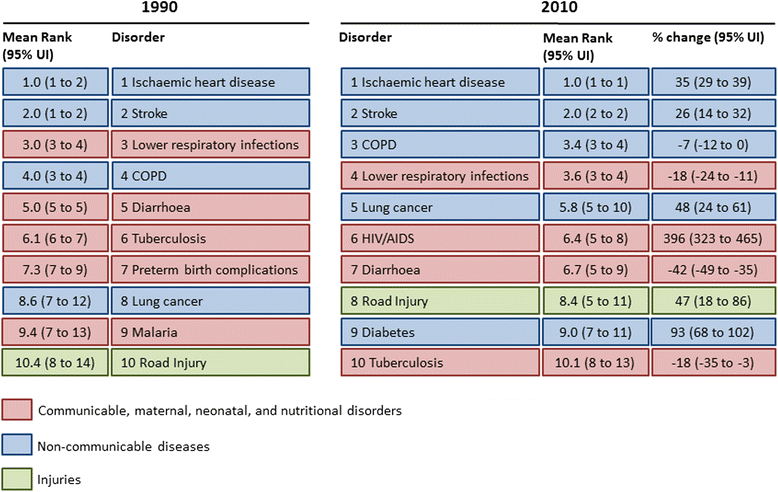 In general, COPD is a progressive condition, leading to airway remodelling, inflammation and narrowing of the small airways and/ or alveolar destruction (emphysema), with symptoms generally becoming evident later in life [4]. Although the introduction of smoking bans may help to lower the incidence of COPD in some countries, not all patients with COPD are smokers [5]. It is also important to note that COPD can be caused by biomass exposure. However, in addition to environmental exposures, around 40 % of variability in lung function is estimated to be heritable [6–9]. There are a range of therapeutic agents available for treatment of COPD, including short and long acting β2 agonists, anti-muscarinic agents, inhaled and oral steroids and phosphodiesterase inhibitors: however, whilst these drugs can improve symptoms in some patients none of them have been show to alter the progression of underlying disease.
Conclusions
In conclusion, recent advances in large GWA studies and meta-analysis of results obtained across different studies has led to the identification of a large number of loci which predict lung function variability. An increasing number of these loci have also been demonstrated to show association with COPD risk per se. However, despite these advances, only a small proportion of the variability in lung function can be explained by the genetic variants described to date. This suggests many other variants are yet to be uncovered which may also contribute to the genetic basis of airflow obstruction. It is notable that many of the genetic regions which have been identified to date harbour genes which play an important role in lung development. Whether or not this means these genes are less likely to be useful targets for therapeutic manipulation remains to be defined. However, there is no doubt that understanding the role of these genes in the regulation of lung function will be key to improving our knowledge of the pathophysiology of COPD and other diseases characterised by airflow obstruction.
The observation that genes associated with lung function and COPD and also showing evidence of differential expression during lung development makes them good candidates playing critical roles in embryological lung development. However, more studies are warranted to demonstrate that through carefully controlled experiments SNP mutagenesis in those genes or whole gene knockout models display effects on lung morphogenesis or activity. If shown to be the case it would give more credence to the 'Dutch hypothesis' stating that COPD and asthma are essentially different manifestation of the same disease process. This is because originally this hypothesis was based on the observation that there is a fluent development from bronchitis in youth to a more asthmatic picture in adults which then further develops into bronchitis among more elderly patients. Therefore existence of genetic variants predisposing to pathobiology of lung development may be expected under this scenario.
Abbreviations
ChIP-Seq:

chromatin immunoprecipitation sequencing
COPD:

chronic obstructive pulmonary disease
CRISPR:

clustered regularly interspaced short palindromic repeats
ENCODE:

Encyclopedia of DNA Elements
eQTL:

expression Quantitative trait loci
FEV1 :

forced expiratory volume in 1 second
FGF:

Fibroblast growth factor
FVC:

forced vital capacity
GWA:

genome-wide association
GWAS:

genome-wide association study
NRT:

nicotine replacement therapy
SHH:

Sonic Hedgehog
SNP:

single nucleotide polymorphism
TALEN:

transcription activator-like effector nuclease
Declarations
Acknowledgements
Work in the authors' laboratory is funded in part by a programme grant from the MRC (grant number G1000861).
Open AccessThis article is distributed under the terms of the Creative Commons Attribution 4.0 International License (http://creativecommons.org/licenses/by/4.0/), which permits unrestricted use, distribution, and reproduction in any medium, provided you give appropriate credit to the original author(s) and the source, provide a link to the Creative Commons license, and indicate if changes were made. The Creative Commons Public Domain Dedication waiver (http://creativecommons.org/publicdomain/zero/1.0/) applies to the data made available in this article, unless otherwise stated.
Authors' Affiliations
(1)
Division of Respiratory Medicine, Queen's Medical Centre, University of Nottingham, Nottingham, UK