Cutting edge of COPD therapy: current pharmacological therapy and future direction
COPD Research and Practice
2015
1:5
Received: 8 April 2015
Accepted: 4 August 2015
Published: 2 October 2015
Abstract
Chronic obstructive pulmonary disease (COPD) is a common global health problem with increasing incidence and mortality. Therefore, attempting to increase the awareness of COPD and disseminate an effective system of management for COPD is important for human health. The management of stable COPD should be based on the disease severity, which is assessed by the severity of airflow limitation, symptoms and risk of exacerbations. The current mainstay of COPD therapy is bronchodilators. Recent advances in the development of both long-acting muscarinic receptor antagonists (LAMAs) and long-acting β2-adrenergic receptor agonists (LABAs) enable us to not only improve lung function, symptoms and quality of life, but also decrease the frequency of exacerbations and curb the rate of progression of airflow limitation. Because there are clinical phenotypes of COPD which have increased airway inflammation, inhaled corticosteroids are likely considered for a supplemental medicine added to an optimal long-acting inhaled bronchodilator regimen for frequent exacerbators and patients with the overlap COPD-asthma phenotype. To establish novel COPD therapies that can considerably reduce the disease progression and mortality as well as the comorbidities associated with COPD, new therapeutic targets that are involved in the pathophysiology of COPD are being investigated.
Keywords
COPDBronchodilatorsLAMALABAInhaled corticosteroidsICS/LABAAnti-inflammatory treatment
Introduction
Chronic obstructive pulmonary disease (COPD) is a major global health issue with constantly increasing incidence and mortality. It is estimated that about 7 % of all individuals have COPD. Especially, the prevalence is up to 10 % in adults aged older than 65 years [1–5]. The actual prevalence would seem to be higher than that reported because COPD is greatly under-diagnosed as well as under-recognized. COPD is expected to become the third leading cause of death worldwide by 2020 [6].
COPD is associated with a chronic inflammatory response in the peripheral airways and lung parenchyma to long-term exposure of noxious particles or gases. In the majority of COPD cases, noxious agents in cigarette smoke cause this chronic inflammation. Its pulmonary component is characterized by airflow limitation that is not thoroughly reversible and usually progressive. The airflow limitation is caused by increased resistance of the small conducting airways and increased compliance of the lung as a result of emphysematous lesions [7].
The main symptoms of COPD are dyspnea and chronic sputum production. Exertional dyspnea is the usual early symptom of COPD. Although various factors are involved in causing dyspnea, airway narrowing is a cardinal factor associated with dyspnea [8–10]. Airway narrowing in COPD is mainly caused by wall thickening and fibrosis in the small airways, as well as collapse of the small airways during exhalation due to the loss of radial traction caused by breakdown of the lung alveolar tissue [11, 12]. The increased sputum production is due to the increase in goblet cells and mucus gland hyperplasia [13].
Because COPD cases have an irreversible airflow limitation and their pathological condition is usually progressive throughout life, both pharmacological therapy and nonpharmacologic therapies should aim to control symptoms, improve quality of life, improve exercise tolerability, prevent exacerbations, disease progression and comorbidities as well as improve the prognosis. Especially, the recent report shows that dyspnea is the most relevant factor inducing disability, decreasing dyspnea is important to improve the ability of COPD patients [14]. To achieve these goals, both pharmacological therapy and non-pharmacologic interventions including smoking cessation, reduction of other risk factors, vaccinations, oxygen therapy, and pulmonary rehabilitation should be conducted with appropriate assessments of the disease severity at the beginning of a patient's treatment as well as continuous evaluation to determine whether the patient has achieved an adequate response to therapy. Recent observations have supported the hypothesis that, in COPD patients, the "spill-over" of inflammatory mediators from the lungs into the circulation may cause systemic inflammation, which may initiate and worsen ischaemic heart disease, heart failure, osteoporosis, normocytic anaemia, lung cancer, depression and diabetes [15]. Therefore, appropriate control of the comorbidities is also important for COPD patients [16, 17].
In this review, we provide an overview of the current pharmacological therapies for the clinical management of COPD, together with recent advances in long-acting bronchodilators. We also discuss novel therapeutic targets for the future pharmacological therapy of COPD.
Review
Current pharmacological therapy for COPD
Novel therapeutic targets for the future pharmacological therapy of COPD
An important goal of COPD management is to reduce disease progression, prevent exacerbations, and reduce the mortality rate. Although recent advances in bronchodilators have enabled significant bronchodilation effects and improvement of the symptoms and quality of life, current therapies including long-acting bronchodilators fail to substantially reduce disease progression, mortality and the risk of exacerbations because bronchodilators don't have significantly anti-inflammatory effects. It has been shown that COPD is associated with chronic inflammation in peripheral airways and lung parenchyma as well as systemic inflammation causing comorbidities including cardiovascular diseases. Therefore, it is natural that effective anti-inflammatory treatment would be necessary for reducing the disease progression and the mortality of COPD patients. However, no current therapies including inhaled corticosteroids and PDE-4 inhibitor is sufficiently effective to treat the underlying inflammation in COPD patients.
Recent advances in the research of the underlying inflammation have been suggesting new therapeutic targets for anti-inflammatory treatments in COPD patients (Fig.
1
) [
91
]. These possible therapeutic approaches include new antioxidants, inflammasome inhibitors, antagonists of cytokines or chemokines, inhibitors for pro-inflammatory kinase, antiproteases, reversal of steroid resistance, and epigenetic modulation, some of which are undergoing clinical trials.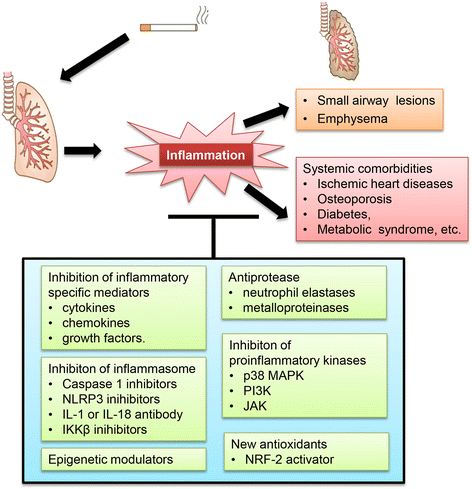 It has been suggested that there are barriers to establishing new therapeutic approaches for COPD [91, 92]. These barriers include incomplete understanding of the underlying mechanisms of COPD, lack of an appropriate animal model, the heterogeneity of the disease, lack of biomarkers for predicting therapeutic response and long-duration trials needed for demonstration of clinical efficacy. Moreover, it is also important to accomplish complete pathophysiological evaluation and characterization of COPD patients to select an appropriate treatment for each clinical phenotype of COPD in order to achieve the best management. Therefore, further investigations for better understanding of the biological and pathophysiological processes of COPD are needed to achieve the goal of COPD management.
Conclusion
Recent advances in the development of long-acting bronchodilators have enabled significantly improvements in the symptoms and lung function of COPD patients. These reagents also reduce the risk of exacerbation and the rate of the progression of airflow limitation to some extent. To establish novel COPD therapies that can substantially reduce disease progression, mortality and the comorbidities, new therapeutic approaches that can resolve the underlying chronic inflammation and lung pathophysiological modifications in COPD are needed, and are being investigated.
Abbreviations
cAMP:

cyclic adenosine monophosphate
COPD:

Chronic obstructive pulmonary disease
DPI:

Dry powder inhaler
FEV1 :

Forced expiratory volume in one second
FVC:

Forced vital capacity
ICS:

Inhaled corticosteroid
LABA:

Long-acting β2-agonist
LAMA:

Long-acting muscarinic antagonists
MDI:

Metered-dose inhaler
QOL:

Quality of life
SABA:

short-acting β2-agonist
SGRQ:

St. George's respiratory questionnaire
SMI:

Soft mist inhaler
TDI:

Transition dyspnea index
Declarations
Open AccessThis article is distributed under the terms of the Creative Commons Attribution 4.0 International License (http://creativecommons.org/licenses/by/4.0/), which permits unrestricted use, distribution, and reproduction in any medium, provided you give appropriate credit to the original author(s) and the source, provide a link to the Creative Commons license, and indicate if changes were made. The Creative Commons Public Domain Dedication waiver (http://creativecommons.org/publicdomain/zero/1.0/) applies to the data made available in this article, unless otherwise stated.
Authors' Affiliations
(1)
Department of Respiratory Medicine, Tohoku University Graduate School of Medicine, Sendai, Japan
Copyright
© Yamada and Ichinose. 2015