Combined Pulmonary Fibrosis and Emphysema, a clinical review
COPD Research and Practice
2016
2:2
Received: 29 July 2015
Accepted: 16 February 2016
Published: 25 February 2016
Abstract
Combined Pulmonary Fibrosis and Emphysema (CPFE) refers to the coexistence of upper lobe predominant emphysema with diffuse pulmonary fibrosis, mainly in the lower lobes. Although initially described in patients with Idiopathic Pulmonary Fibrosis (IPF), since then it has been described in other forms of pulmonary fibrosis, most notably collagen tissue disorder associated interstitial lung diseases. High Resolution Computed Tomography (HRCT) has a pivotal role in diagnosis. Recognizing CPFE is not an academic exercise but has significant clinical implications. Thus, it is important for the treating physician to be familiarized with the radiological characteristics that will establish diagnosis. In this review we will discuss the special physiologic and radiological features of CPFE, the challenges in monitoring the course of the disease, the natural history and also the clinical importance of potential complications.
Keywords
Pulmonary fibrosisEmphysemaUsual interstitial pneumonia (UIP)Pulmonary function testHigh resolution computed tomography (HRCT)Pulmonary hypertension (PH)Lung cancerNatural course
Clinical setting
A 74 year old male (current smoker, 50 pack years) presented to our clinic due to progressive dyspnea on exertion and non productive cough. He was diagnosed with COPD about 1 year ago and was treated with tiotropium and indacaterol. Clinical examination revealed the presence of clubbing and velcro like rales with bibasilar symmetric distribution. Pulmonary function tests exhibited an obstructive pattern (FEV1/FVC: 61 %) with a small reduction in TLC (74 % pred) and a disproportionate reduction in DLco (35 % pred). HRCT showed upper lobe paraseptal emphysema with subpleural honeycombing at the lung bases fulfilling the criteria of a definite UIP pattern. A complete clinical and laboratory testing excluded alternative causes and the diagnosis of CPFE in the context of IPF was established (Fig.
1a, b
).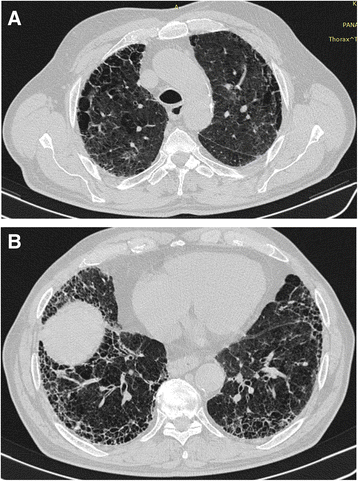 Introduction
CPFE is defined by the co-existence of emphysema and pulmonary fibrosis. Wiggins et al. [1] first described the coexistence of emphysema in the upper lobes and pulmonary fibrosis in the lower lobes on HRCT. The term CPFE was initially introduced by Cottin et al. who described a cohort of 61 patients with both emphysema in the upper zones and diffuse parenchymal lung disease with fibrosis in the lower zones of the lungs on chest HRCT [2]. It is important to note that patients with connective tissue disease, drug-induced interstitial lung disease, pneumoconiosis, hypersensitivity pneumonitis, sarcoidosis, pulmonary histiocytosis, lymphangioleiomyomatosis and eosinophilic pneumonia were excluded [2]. Since then, CPFE has been described not only in the context of IPF but also in the context of other chronic lung fibrotic diseases, such as connective tissue related-interstitial lung diseases [3]. Given the fact that IPF has the worst prognosis in relation to other chronic lung fibrotic diseases, it is important to establish the interstitial lung disease that constitutes the fibrotic component of CPFE. The formation of homogeneous cohorts will allow us to draw comparative conclusions regarding the effect of emphysema on prognosis and therapeutic interventions.
Conclusions
CPFE is a syndrome with clinical importance. Diagnosis is not always straightforward as pulmonary function tests usually show preserved or slightly reduced lung volumes and an obstructive pattern is not always observed. Thus, recognizing the typical velcro-like crackles is an important clue that will raise suspicion for an underlying fibrotic lung disease and the need for a subsequent HRCT that will establish the diagnosis. CPFE patients tend to exhibit a delay in the reduction of FVC and DLco and monitoring disease progression and therapeutic response to antifibrotic patients can be especially challenging. Unlike what one would expect based on IPF studies, serial changes in FVC do not have prognostic value in CPFE, while the rate of FEV1 decline is the strongest predictor of mortality. The development of pulmonary hypertension is frequent in the context of CPFE and is associated with reduced survival. Increased vigilance is required for early recognition of pulmonary hypertension that will allow timely referral for lung transplantation.
Declarations
Open AccessThis article is distributed under the terms of the Creative Commons Attribution 4.0 International License (http://creativecommons.org/licenses/by/4.0/), which permits unrestricted use, distribution, and reproduction in any medium, provided you give appropriate credit to the original author(s) and the source, provide a link to the Creative Commons license, and indicate if changes were made. The Creative Commons Public Domain Dedication waiver (http://creativecommons.org/publicdomain/zero/1.0/) applies to the data made available in this article, unless otherwise stated.
Authors' Affiliations
(1)
Academic Department of Pneumonology, Medical School, University of Athens, Hospital for Diseases of the CHEST "SOTIRIA", Athens, Greece
Copyright
© Tzilas and Bouros. 2016